About Urbansocial.com
Urbansocial was founded in 2003, and has since become one of the oldest and most established local dating websites in the UK.

Originally created by two adventurous singletons who wanted to create a better online dating experience, Urbansocial has evolved over the years with the ever changing market of online dating.
Social Dating, the New Way to Meet People Online
Urbansocial put the word social into dating long before the birth of social media and internet enabled phones! Long before apps, swipes left or right, iPhones or mobile websites, Urbansocial had a successful online dating formula that brought sociable singles looking to meet other likeminded people together.

While the next dating app, and swiping left or right will come and go, Urbansocial continues to prove time and time again that its online dating approach leads to many successful meet ups, real dates with real people and new relationships.
How it Works
Urbansocial is a local dating website that is quick and easy to join in a few simple steps and allows you to easily meet people online. All our member profiles and photos are manually checked and approved before going live on our network. It's completely free to sign up, add a profile and browse other members on our site. Full paying members are given access to all dating services, and can contact other members using our secure messaging service.

For more information on how it works click here, or if you're ready to join now, click here.
Local Dating
Urbansocial wants all our members to have a successful and happy time using our local internet dating service and have fun meeting local people online. For more information, you can see some of our more popular UK dating locations here.
Getting Social
Social is in our name and is what meeting new people online is all about. You can join us at any of the below social media channels for the latest tips, articles, guidance and more on topics from date fashion to relationship advice.
Contacting UrbanSocial
Our customer support team is available 24/7 to answer any queries or give a helping hand. We are also available to contact on email. Click here to contact us.
Dating Blog
We also have an award winning blog (UK Dating Awards) that will keep you up to date with our latest fun, topical, informative and useful dating related content. From what to wear on a first date to the pub, to the best Friday night bars in London or top tips for guaranteeing yourself second date – our experts let us in on their top tips.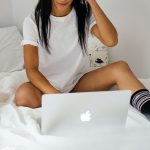 Photo: Charles Deluvio, Unsplash No matter where you're located, it's likely that you are encouraged to self-quarantine right now due to the COVID-19 pandemic. This also probably means that you've put your dating life on hold unless you're lucky enough to be in isolation with a significant other. Whatever your situation may be, we're here […]
Wednesday April 15, 2020
Photo: Charles Deluvio, Unsplash No matter where you're located, it's likely that you are encouraged to self-quarantine right now due to the COVID...
Sign up today, meet people and have fun with Urbansocial!